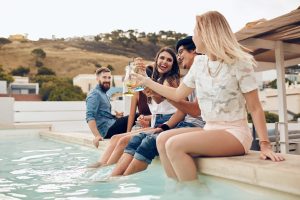 2020 will go down in history for several reasons. The summer of 2020 will be memorable! Consumers want to enjoy life and good things. The mood will be festive and this is what trendy people will be drinking!
LET'S DRINK ORGANIC!
2020 is definitely the year of small production wines, as well as natural and orange wines. Cultivation plots that yield different wines and reflect what the new generation of alcohol consumers want. Bold blends, straightforward, and original brand images that reflect the values of this range of consumers, always on the lookout for new trends.
LET'S DRINK LOCAL!
A well-established movement with a message that has been heard all over the world during this pandemic period.
Every country now lives at the rate of a fragile and slow economy. The message, broadcast on all platforms, gets a very positive response.
We now buy local and we encourage small businesses. This echo resounded in all spheres including that of the wine and alcoholic beverage industry.
LET'S DRINK SOME SPARKLING!
After spring COVID 19, make summer 2020 the most festive season! No need to wait for special occasions to pop open a bottle.
Prosecco, cava, spumante, cider, and crémant, so many varieties and offers to discover. Please follow the public safety guidelines, but drink to the health and to the joy of living every moment!
LET'S TASTE SOME GIN!
Who would have thought that this spirit could one day make such an explosive comeback? Distilleries are being really bold and are challenging themselves to create authentic and original gins. Craftspeople turn into spice and herb hunters in search of new flavors.